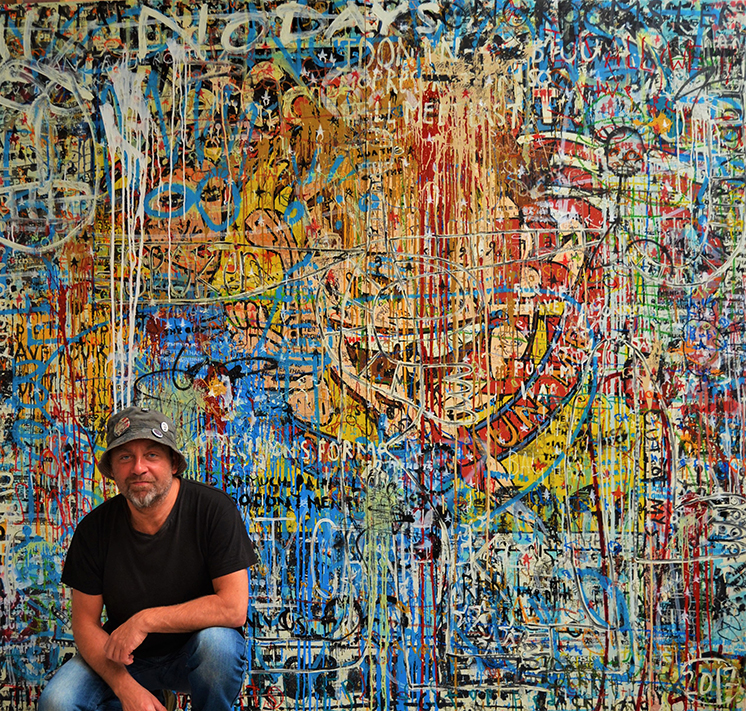 Neale Howells is a Welsh artist renowned for his multi-layered, mixed media collage paintings. Often rich, imaginative and ambiguous, his works discourage easy interpretation enabling the viewer to discover the unique qualities and meaning of each piece.
Born in Neath, South Wales Howells graduated from Bath Art College in 1990. In his early practice he sought inspiration from the abandoned factories and construction industry visible in the Welsh landscape surrounding his studio. Often miscategorised as graffiti art, his practice complicates the single narrative offered from this type of art. Rather, his practice combines the graffiti, Pop Art, Abstract Expressionism and Symbolism art movements. He primarily works with household materials, including gloss, spray paint, acrylic, pencils and crayons.
Howells has exhibited widely, and worked with various creatives spanning the music, film and fashion industries. His notable recent collaboration with international designer Jayne Pierson, saw their designs displayed on the catwalk at London Fashion Week in 2016.
Howells lives and works in Wales.