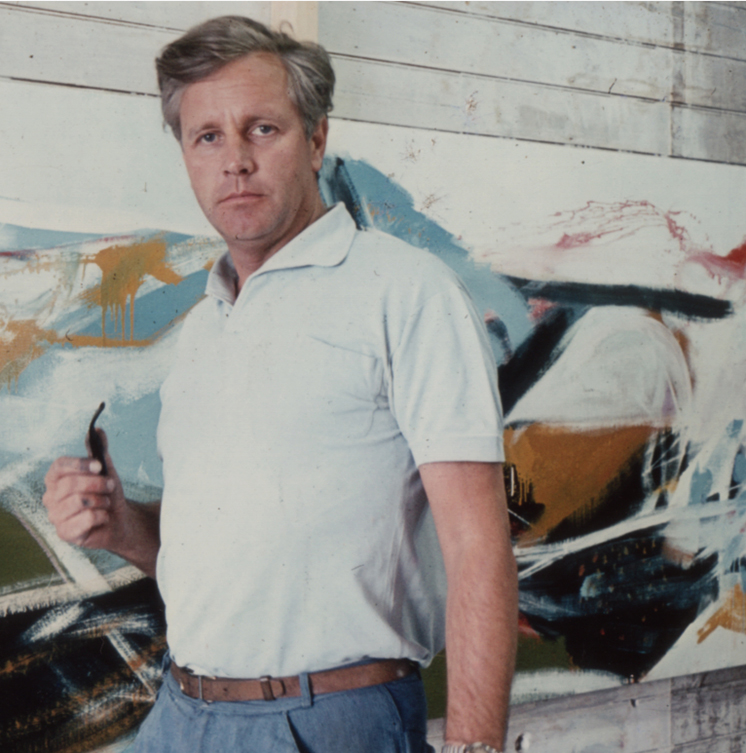 Peter Lanyon working on his third (middle) mural for the Stanley Seeger collection, July 1962. Photograph by Sheila Lanyon.
Peter Lanyon was an important British post-war painter, print-maker and sculptor associated with the St Ives School. His works combined abstract values with radical ideas about landscape and the figure.
Born in Cornwall 1918, Lanyon studied at the Penzance School of Art. He became acquainted with Ben Nicholson, Barbara Hepworth and Naum Gabo when they moved to St Ives in 1939, and was tutored by Nicholson. After serving in World War II, Lanyon distanced himself from the St Ives School and became actively involved in the Crypt Group and Penwith School of Art.
Lanyon took up gliding in 1959, an experience that provided him with new perspectives on the landscape which informed his art.
A major retrospective of Lanyon's work was held at the Tate St Ives in 2010. His work is in many collections around the world including the Tate collection and Arts Council Collection.