What can you tell us about your latest exhibition, The Duppy Conqueror?
The show has been three years in the making and incorporates prints, sculpture, tapestries, lens-based media and drawing. It explores my masked alter-ego - the 'Duppy Conqueror' - a spirit that is a shapeshifter who highlights societal inequities. In the current climate, where truth and fiction converge, the alter-ego emerges as a political gadfly: an outsider leading the insurrection of the everyday people against the established authority.
As a boy growing up in London, my parents would talk about spirits and refer to them as Duppys. In Jamaican tradition, a "Duppy" is an evil ghost or malevolent spirit who appears in dreams, sometimes to give cautionary advice. Years later, my generation would give rise to another definition, to be "Duppied" - to be duped or hoodwinked. My alter-ego's name, the Duppy Conqueror, is derived from the song by Robert Nesta Marley (with the same title), in which Marley describes dissent as the only way to reach a higher state of consciousness.
The title of your exhibition relates to a triptych of your masked alter-ego. Can you tell us why you chose this work as the title piece?
The power of three is universal in this work and represents birth, life, and death. Our odyssey of life is sculpted by a plethora of hands with honorable or nefarious intentions. The institutions of learning acquiesce to those whom are pioneers of spirituality, literature, science and the arts. However, the Duppy Conqueror views these establishments as specters and purveyors of a subterfuge.
The first image in my triptych highlights being adept at pursuing 'right' knowledge, as illustrated by a figure with a partially hidden hand. The second image symbolises our third chakra, our key to life, that which marshals self-esteem, might, and cognition. The third image then has three fingers pointing upwards, confirming the 360 degrees of spiritual cognition.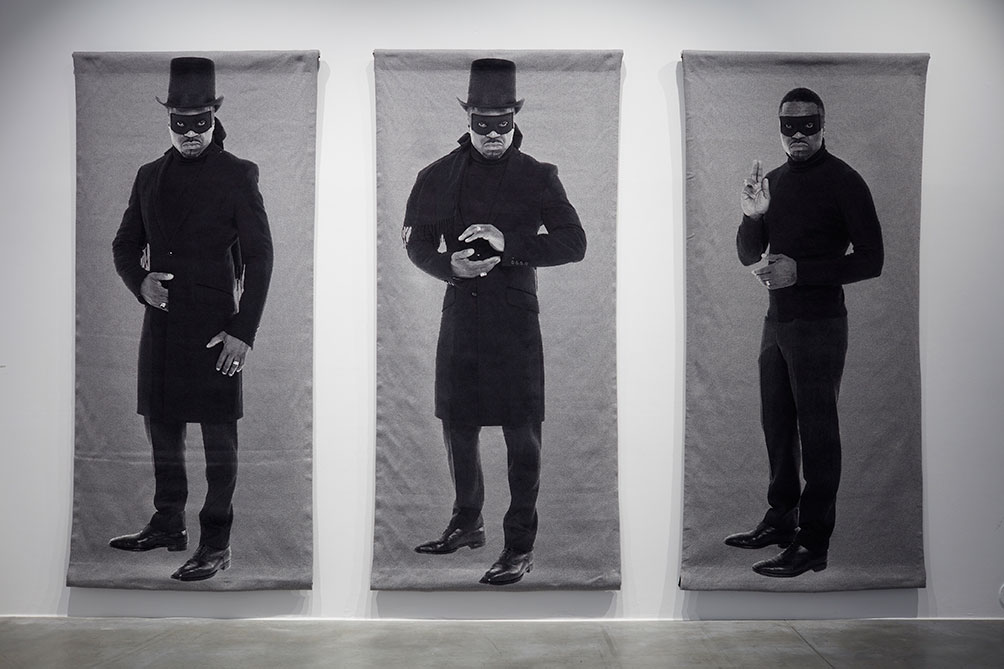 The jacquard photo tapestries of The Duppy Conqueror and The Last Supper I + II are new editions of your works. How did they come to be?
Dr. Michael Macmillan, in his seminal history on Black British culture, observed that the traditional first-generation West Indian's sitting-room was a space of hosting and cerebral contemplation. In his study, MacMillan drew upon memories of his relatives' homes in the 1960s and 1970s and the symbolism of particular objects in there, examining how these rooms raised issues of class, migration, aspiration, religion, and alienation. It was in the front room that my Aunt housed a mock Last Supper tapestry in full colour.
Some years later the photographer Kofi Allen asked if we could collaborate, given the convergence of our thought process and philosophy. The subjects who posed for the images were going through a process of spiritual and cultural transformation themselves and really summarised the climate of the 1990s in London. Mark Sealy refers to this seminal moment as 'reflection and return'. Then in 2011, Barbaro Martinez-Ruiz, whilst curating my solo show at the CAAM in Spain, asked if I would remake the Last Supper with images that were never published from the first shoot with Allen. I consulted with Allen who agreed and Magnolia Editions made the new versions as tapestries in 2012.
Your artworks tend to explore issues of race, identity and power. How did you approach these themes in your latest works?
As a child growing up in the 1970s, the UK was dealing with racism in the education system, public life, and financial institutions. Writers like Darcus Howe, Linton Kwesi-Johnson, Farrukh Dhondy and Stuart Hall all spoke out publicly and in their own writings about the cultural politics of multi-cultural Britain. During this period, the banks in particular were less forthcoming in lending money to anyone from the Caribbean community, and my father's generation was acutely aware that they were unable to access loans. As a result, they started small businesses out of their homes. One in particular was a local barbershop owned by a barber called Mr. Wright. The barber was situated at the back of his house and was meticulously arranged. Mr. Wright, a petite man with coco brown skin, sold beers, playing cards, dominoes and cigarettes, and it was rumoured that his house was almost paid for - due to his adroit business acumen.
I would always see the same faces there, and one thing I loved was being around the 'elders' who, after they had purchased a few beers, would open up and switch to storytelling mode. Sitting in the seat of the emperor and surrounded by all these elderly people sitting, playing cards and listening to the latest reggae hits, I realised that the barbers was the first institute of education. It became an informal nurturing/teaching space, where they were preparing me to navigate, understand, research and listen. The Barber Chair, Barber Clipper and After Kosuth are therefore artworks that convey the importance of this arena.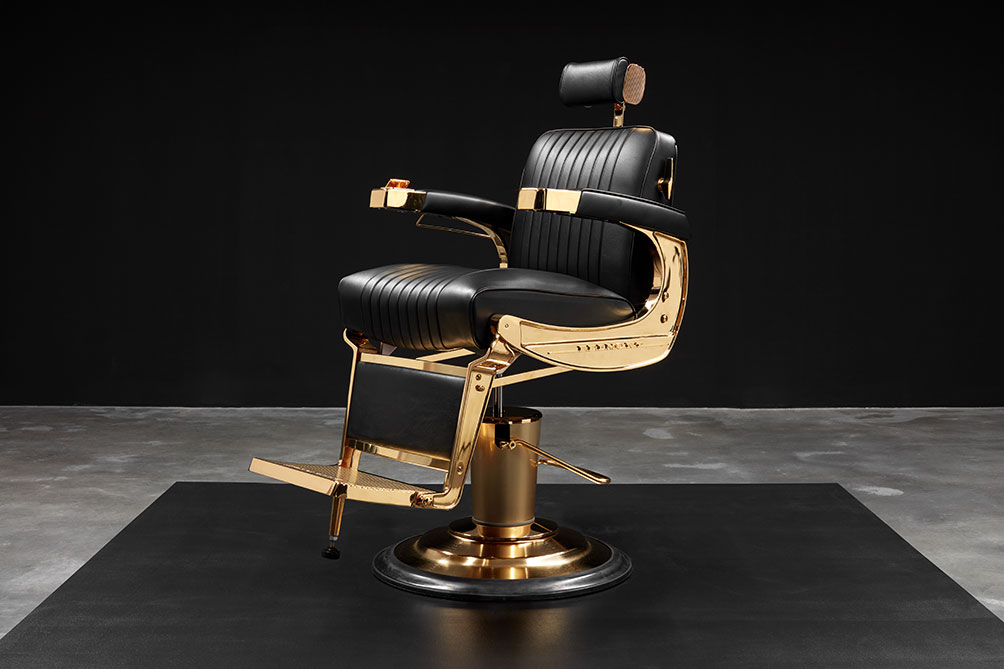 Do you have a favourite piece from this exhibition?
The recent works are my favourites, The Duppy Conqueror triptych, and the new gold-plated works.
You work across many disciplines, from photography to print-making, sculpture and installation. Do you have a favourite medium and do you find there is a difference in how they convey ideas?
I am currently having fun with a performance piece, Live Salon, first performed at the Hayward Gallery as part of the British Art Show in 2006, then at Tate Britain and more recently the Chazen Museum, USA. By setting up a barber chair in the midst of an art gallery and inviting people to have their hair cut, I disarm the typical stance of an exhibition visitor. A visitor takes a seat in the chair, and I begin asking how their day has been, what are they doing later and whether they or anyone watching has any questions.
When it comes to the cutting and cultivation of hair, questions of race are perhaps to be expected, since, as Kobena Mercer wrote in 1987, the stylization of black hair became a particularly politicized act over the course of the twentieth century. Mercer's article is important in this context, less for its explication of racial politics, and more for its exploration of hair as a socialised, artistic medium. The salon is a critical space in which hair is 'shaped and reshaped by [both] social convention and symbolic intervention'.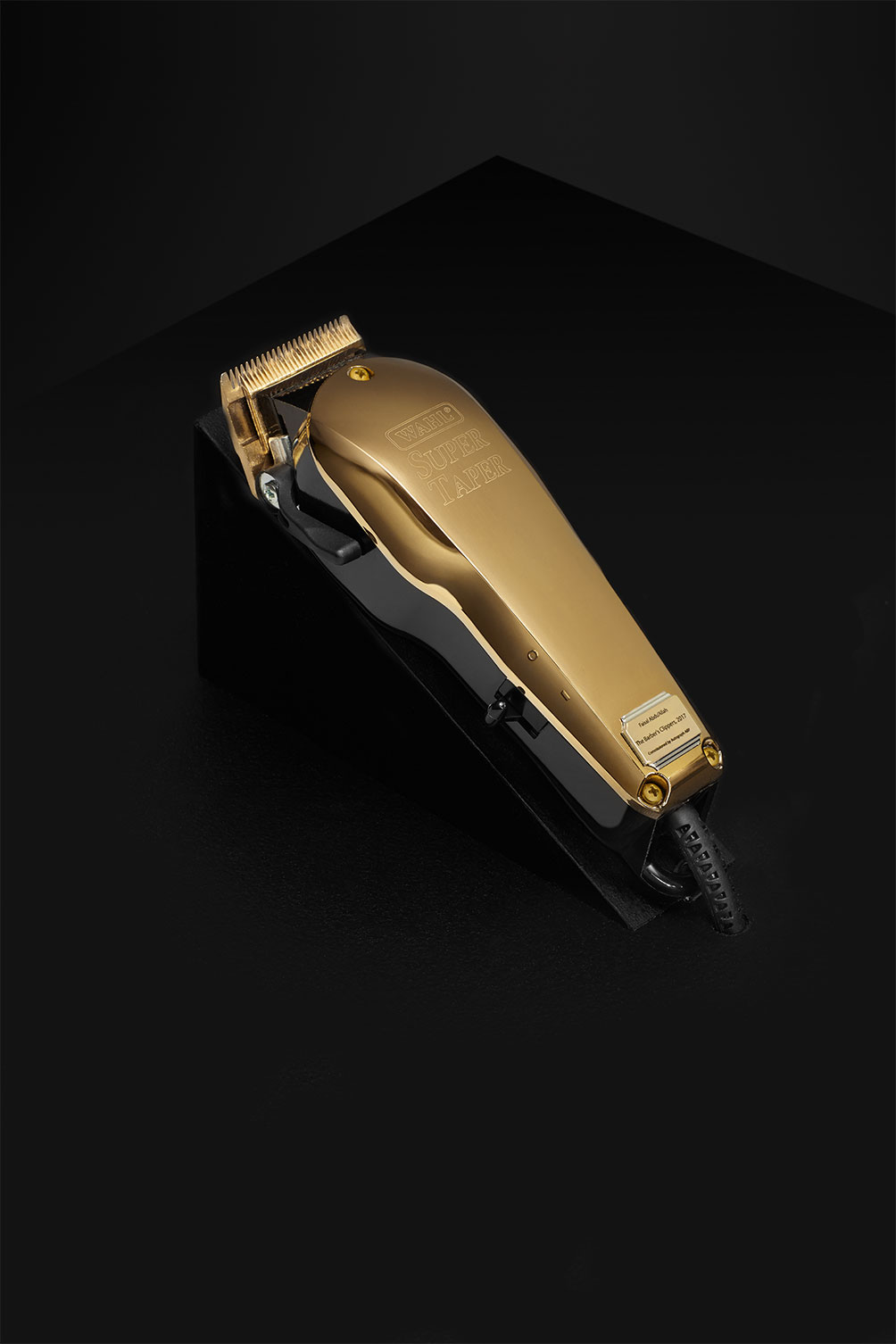 What compelled you to become an artist in the first place?
Two particular spaces - home and my art class at secondary school. My earliest memories of home were full of fun and experimentation in the 70s, where I soon realised that I could create. My two older brothers encouraged me to draw objects from around the house as opposed to comics, while my mother made cakes for weddings as a hobby and I would observe her every weekend as she sculpted roses and orchids out of a marzipan mixture.
At school, my art teachers gave the class our first assignment, which was to make a copy of Peter Paul Rubens' The Straw Hat. Art was not assigned with large blocks of time, so I asked my teachers if I could return at break to work on my painting. They agreed. It was a Wednesday afternoon and Mr. May was playing Miles Davis' Kind of Blue on his record player. It was while creating this painting and listening to one of the greatest jazz players that the two worlds aligned. Mr. May walked over with his cheese sandwich and a brush in the other hand and, peering over his half-framed glasses, asked if he could put my work on an easel. Doing this I was able to see the work better, but more importantly, Mr. May could compare my work with my peers - the difference was noticeable. These are the primary factors that shaped my way of seeing and making.
Who is your artistic inspiration?
On the 3rd March 1991, Rodney King's white Hyundai car was stopped by traffic officers from the Los Angeles Police Department (LAPD) after a high-speed chase. King, whose friends were also in the vehicle, had been drinking and were behaving erratically. Ordering King out of the vehicle, the officers, Laurence Powell, Timothy Wind, Theodore Brines and Stacey Koon then proceeded to repeatedly hit Mr. King with their batons. Other officers at the scene did not intervene in the assault and as a consequence, King received a fractured skull and suffered from internal bleeding. Unbeknown to the police, the incident was caught on camera by George Holliday, a manager of a plumbing company, whose apartment was close by. Within days the incident was world news and, on the 15th March, the tape was running on news networks around the world, focusing international attention on the apparent brutality of the LAPD. King was cleared and four officers charged with assault. Widespread rioting followed after the officers' acquittal in April 1992 and this resulted in 55 deaths, 2,000 injured and over 12,000 arrests.
Soon after this incident, I created Fuck Da Police as a response to this global social trauma, seeking to both represent and explore the tension between social trends informed by racism. In other words, the work challenged existing representations of cultural, ethnic, religious and national identity groups. Fuck Da Police took its title from the American vernacular of violence and popular verbal phrasing about police brutality in the 1990s, and was the first work on metal, inspired by the influential hip-hop group N.W.A.'s 1988 anthem, eloquently articulating the rage felt by many African American men targeted by the racial profiling in urban centres, especially Los Angeles.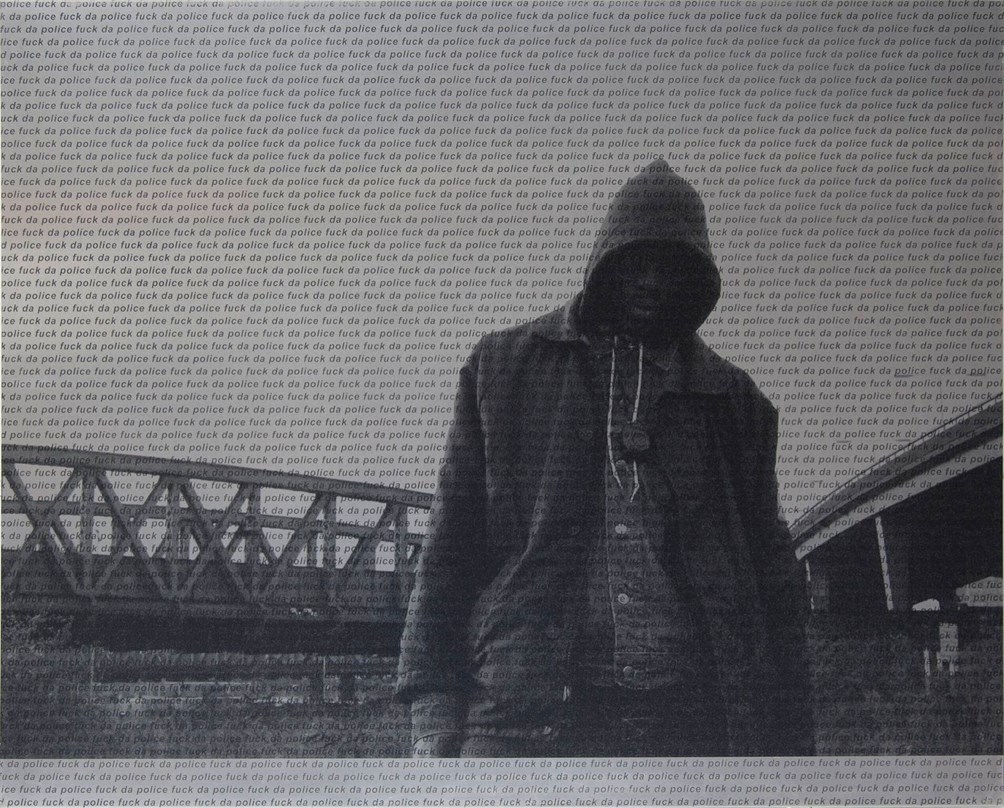 When you began work in the early 1980s the art world presented a landscape largely closed off by privilege. As society has changed over the decades, how has your work changed in response to it?
The art world is still closed off by privilege – the gatekeepers are just older.
In my practice, I firmly believe artists are the shapers of social consciousness and if society is changing, artists have been complicit in this process. My work has evolved from one that is centred around cultural hegemony and 'othering' to one that looks at circles of loyalty, sustainability, and reflects a keen awareness of the ways commerce impacts communities and geographical boundaries.
What made you decide to join Artimage, and what have been the greatest benefits?
Artimage act on behalf of the artist in a market that can be unscrupulous. I feel safe in the knowledge that when I am buried in my studio thinking and making, any licensing or copyright issue will be one less problem with Artimage in my corner.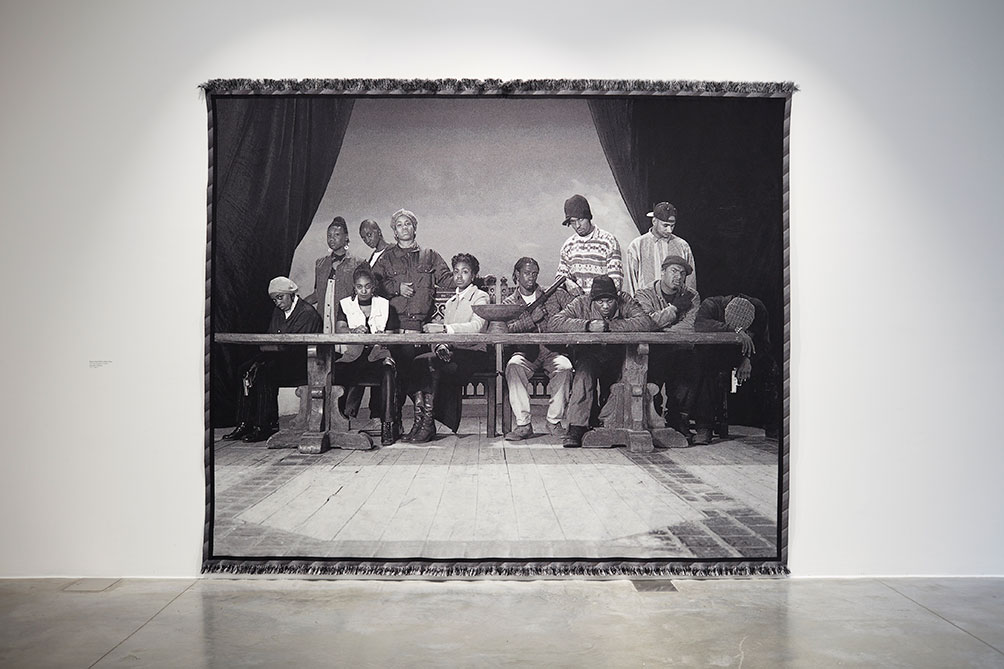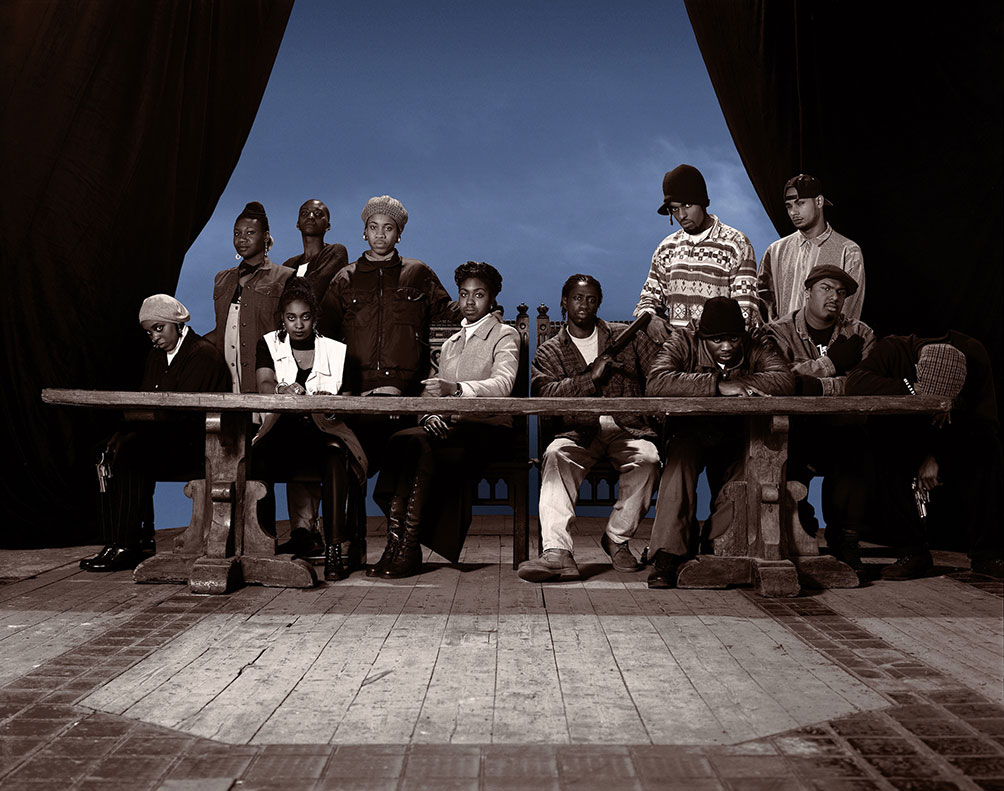 The Duppy Conqueror & Other Works is open at Autograph ABP, London, until 14 April 2018.
Related pages
How to license an image
To request an image, log in or register for an account.
Need help? Contact our team for expert guidance on finding the right image for your project. Email artimage@dacs.org.uk or call +44 (0) 20 7780 7550.
Images from the top: The Last Supper II, 2012; Duppy Conqueror, 2017; The Barber's Chair, 2017, Commissioned by Autograph ABP; The Barber's Clippers, 2017, Commissioned by Autograph ABP; Fuck Da Police, 2010; The Last Supper II, 2012; Last Supper II, 1996-2011.
All images © Faisal Abdu'Allah. All Rights Reserved, DACS/Artimage 2018. Photo: Ben Reeves.