A line through history
Hew Locke's solo exhibition Patriots, opens at PPOW Gallery, New York this month. Exposing a too-often disregarded, mythologised and willingly forgotten line through America's past, Locke's exhibition shows prominent New York statues alongside Confederate Government Bond certificates; reminding us how America was built, questioning who continues to be celebrated and inviting New York's myriad passers-by to take note. "These are important individuals who we are still supposed to admire. But history is messy."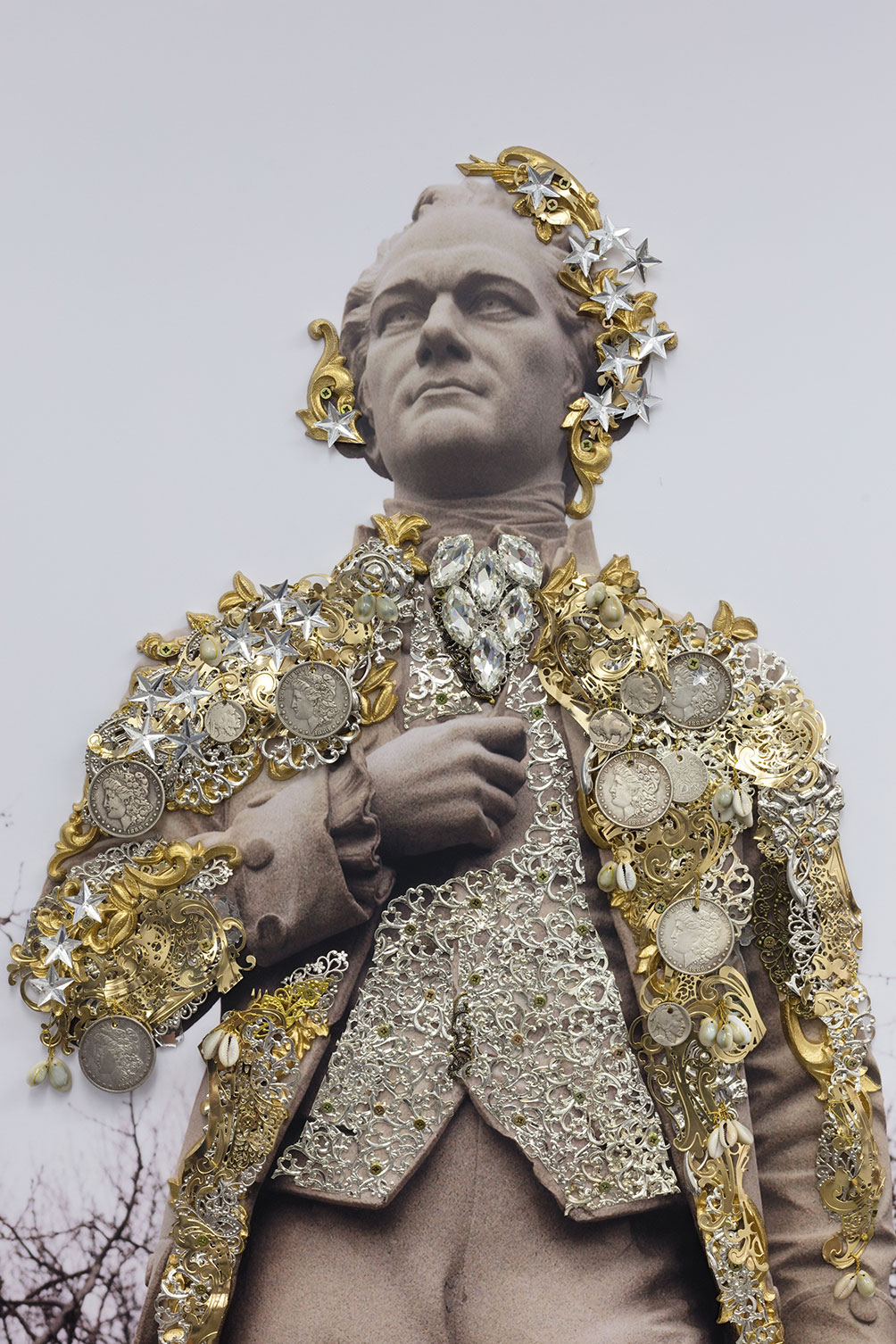 Patriots
Locke's fascination with statues began many years ago, "Wherever I travel around the world I look at statues and who they celebrate. In New York I am imagining what they might mean for somebody from Ghana or Jamaica, and how they are meant to relate to them. Quite often they're about who was in power, and reinforcing who is in power, so if you are someone lacking in power, they become an ongoing reminder of that."
Locke's Patriots are seven large, C-type photographs of prominent New York statues, whose breathtakingly beautiful costumes of gold have been painted, screwed and wired directly onto each photograph. Visions of George Washington, Alexander Hamilton, Peter Stuyvesant and J. Marion Sims command attention at 6-foot by 4, but as Locke says, "All that glitters is not gold".
Layered with meaning
Drawing you in with shimmering visions of beauty, wealth and power, on peering closer, their costumes reveal slaves, lynching, trumpeting skulls and images of death. "The closer you get to the artwork, the closer you get to the story."
Locke's George Washington, slave owner and still-celebrated 'founding father', stands triumphantly with slaves hanging off his clothes, while Peter Stuyvesant, the virulently anti-Semitic Dutch Governor of what later became New York, is emblazoned with memento mori ("remember death") motifs. Alexander Hamilton was the first Treasurer of the United States. Celebrated gynaecological surgeon J Marion Sims, who has important surgical instruments and procedures named after him, operated on female slaves without anaesthetic.  The works embody these difficult concepts and debates, artistically and historically.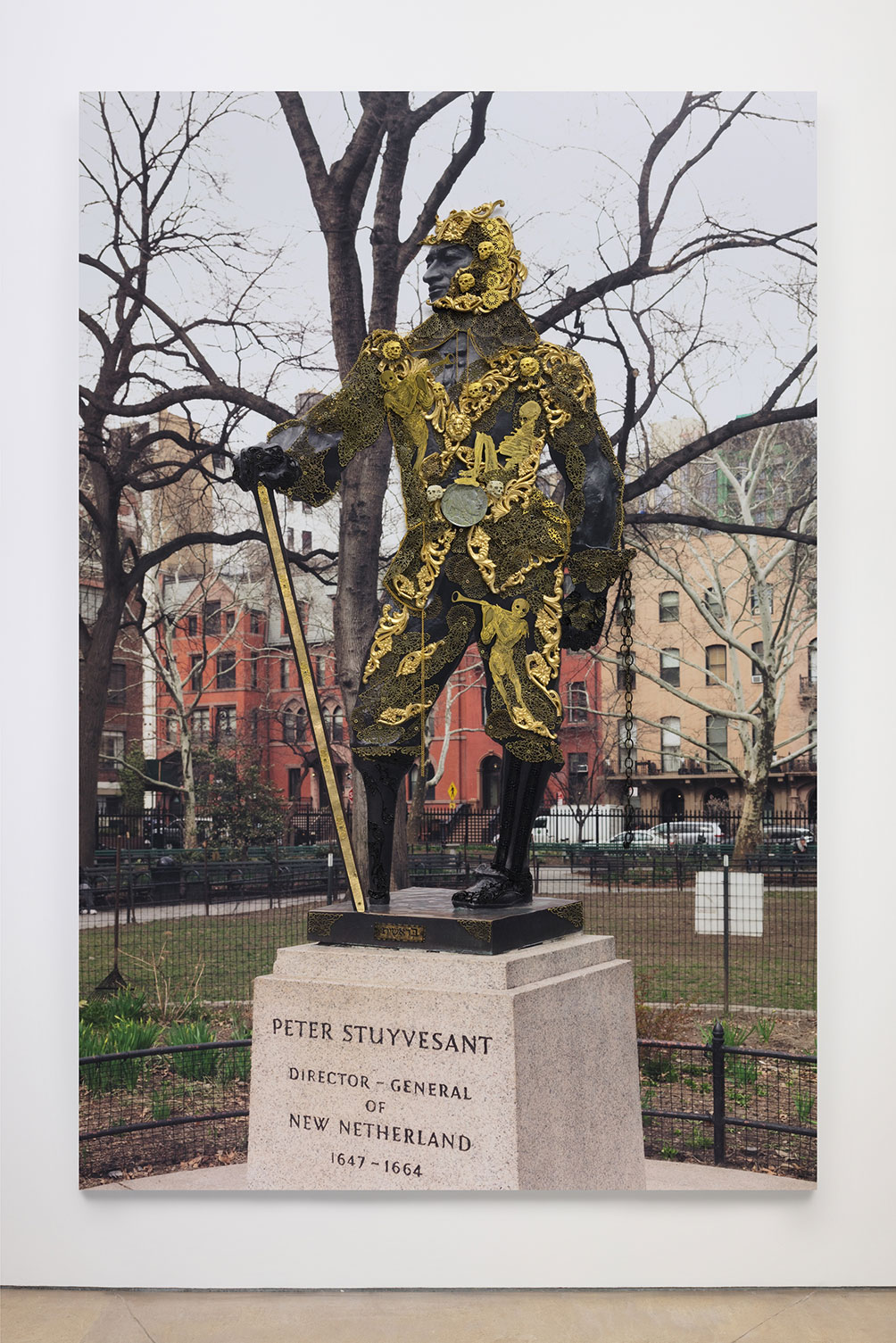 Songs of the South
Locke's Songs of the South collection, inspired by many trips around Atlanta with his father during which "It seems as if the civil war was yesterday," create further physical links to the facts of the past, as genuine Confederate Government Bonds are painted with colourful images of slaves and contemporary figures. Yet perhaps the most prominent reminder that certain truths have been lost to a mythic forgetfulness is the motif of Washington on horseback, at the top of these antique documents. A slave-owning, founding father that not only featured then, but continues to do so today, on one-dollar bills.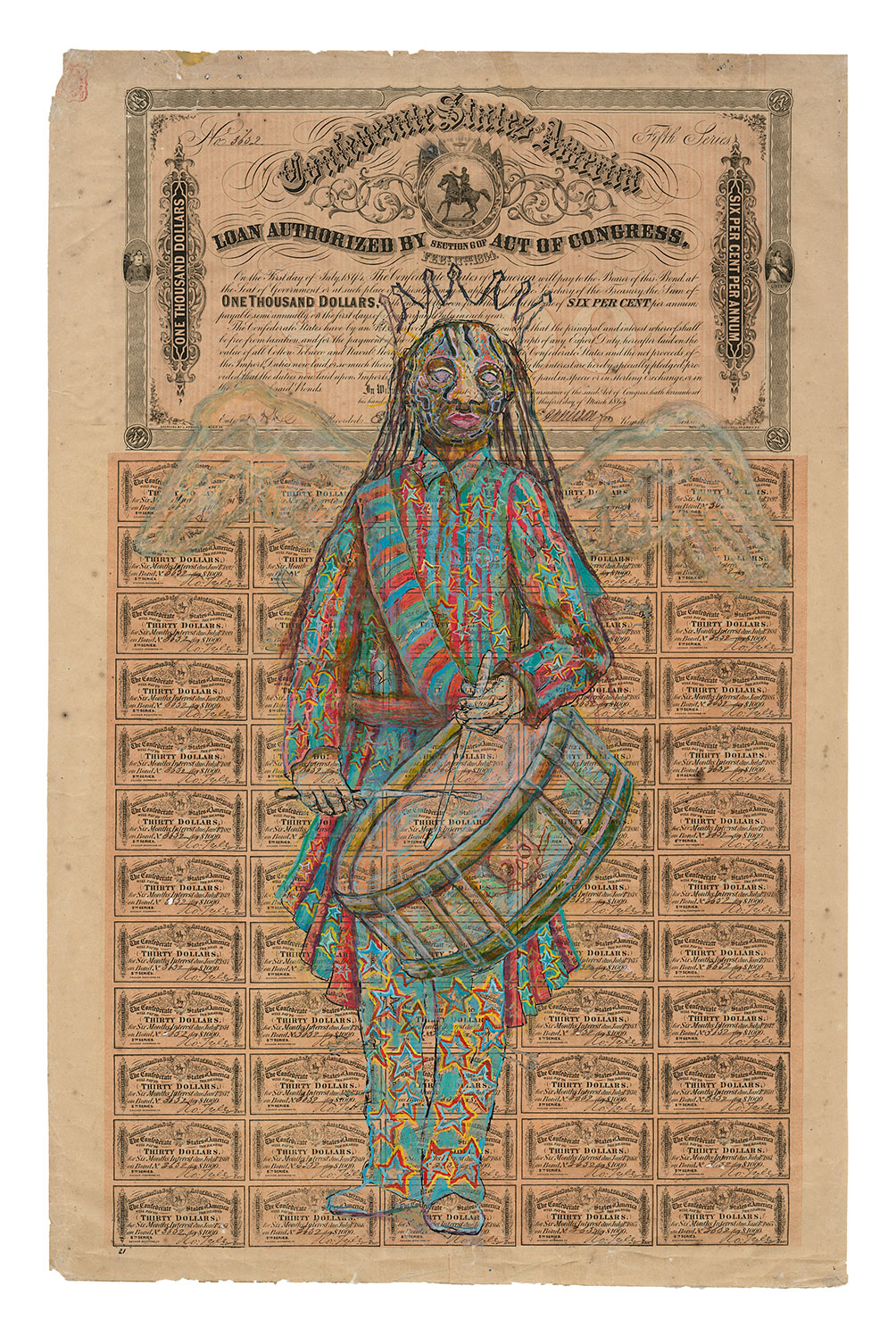 "To somebody, these matter"
Faint, blood-red spray-paint stains could be seen staining the well-scrubbed hands of the Christopher Columbus statue when Locke zoomed in on his high-pixel image. A reminder that "To somebody, these matter." It is this same Christopher Columbus statue, however, that Locke offers in acknowledgement of how difficult the removal of statues can be, as "Everybody has a different approach". Referring to the many activists who wish for the statue to be taken down -  as it celebrates a man who started the genocide - Locke notes that there are also those who think otherwise, who regard his achievements as a part of history to be celebrated.
"So visible, they're invisible"
And yet, what should be done? In Germany, some colonial statues were re-contextualised with explanatory plaques, but Locke questions if this is enough to prick the bubble and acknowledge who these people really were, "It's not a simple thing, as what do you write?". Brussels' 'Mannekin-Pis' statue is one that has influenced Patriots, as throughout the year it is routinely dressed up in different Societies' and Nations' traditional clothes and costumes.
In the same vein as Reynolds receiving his wreath every year in the courtyard of the Royal Academy, during the Summer Exhibition, Locke's Patriots is intended to open doors to the idea of semi-official statue dressing, putting the power and perspective back into the hands of those who need it, while widening the debate in public consciousness. After all, "A lot of people are probably just walking past these things – they are so visible, they are invisible."
If Locke has anything to do with it, this won't be for long.
Go to our full Hew Locke collection, or browse Patriots exhibition images below: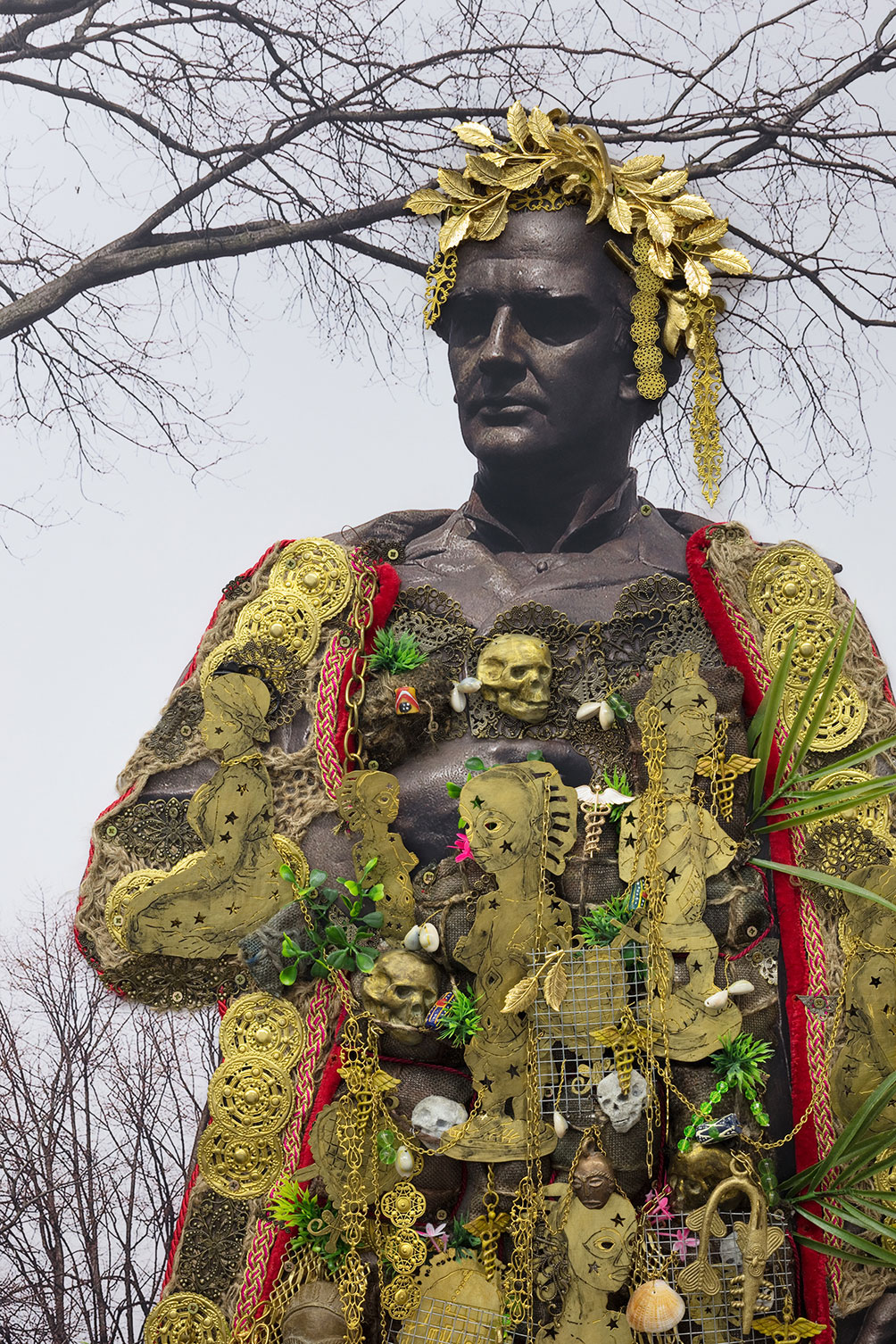 J. Marion Sims, Central Park, 2018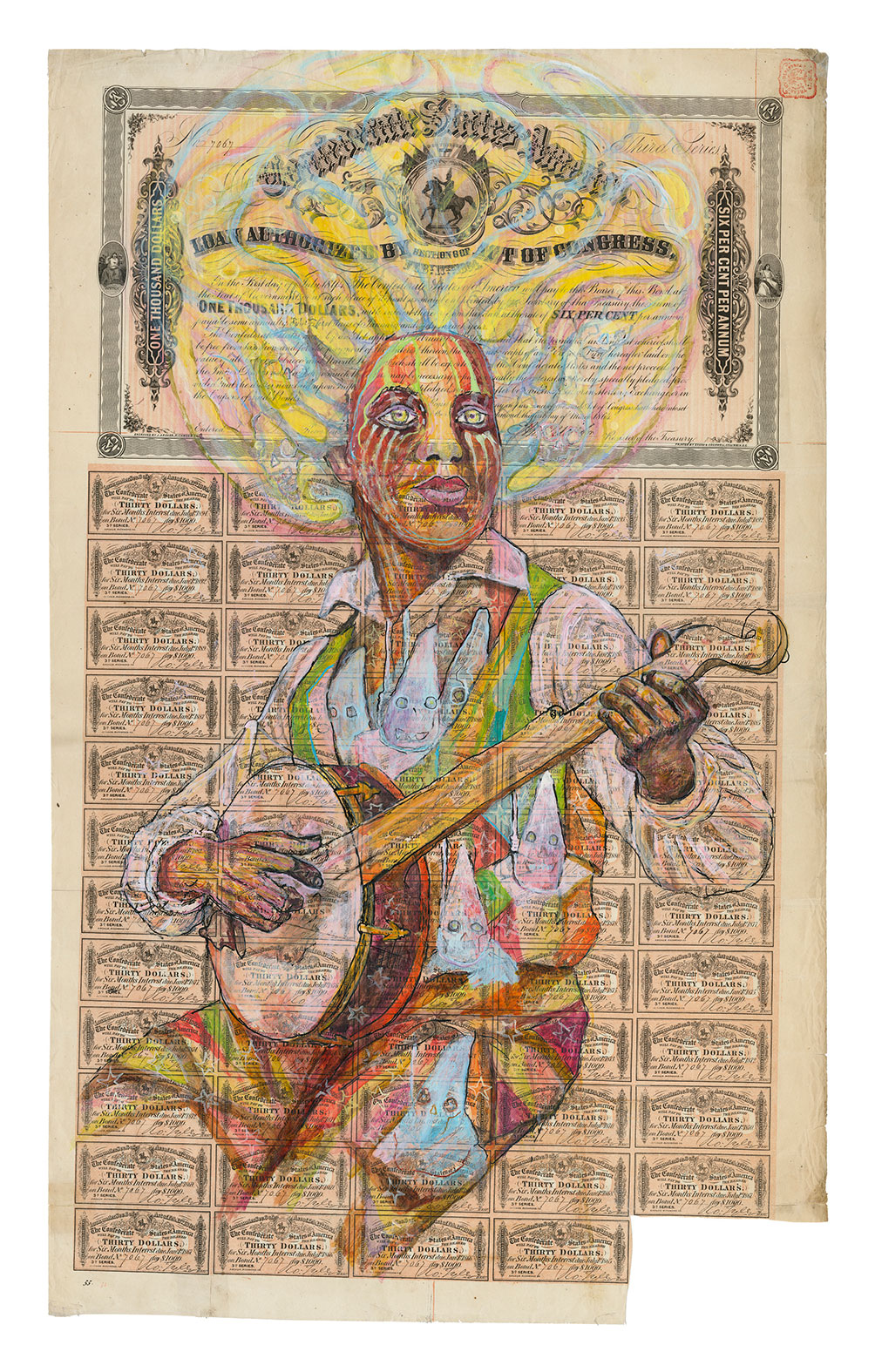 Confederate States of America Loan 2, 2018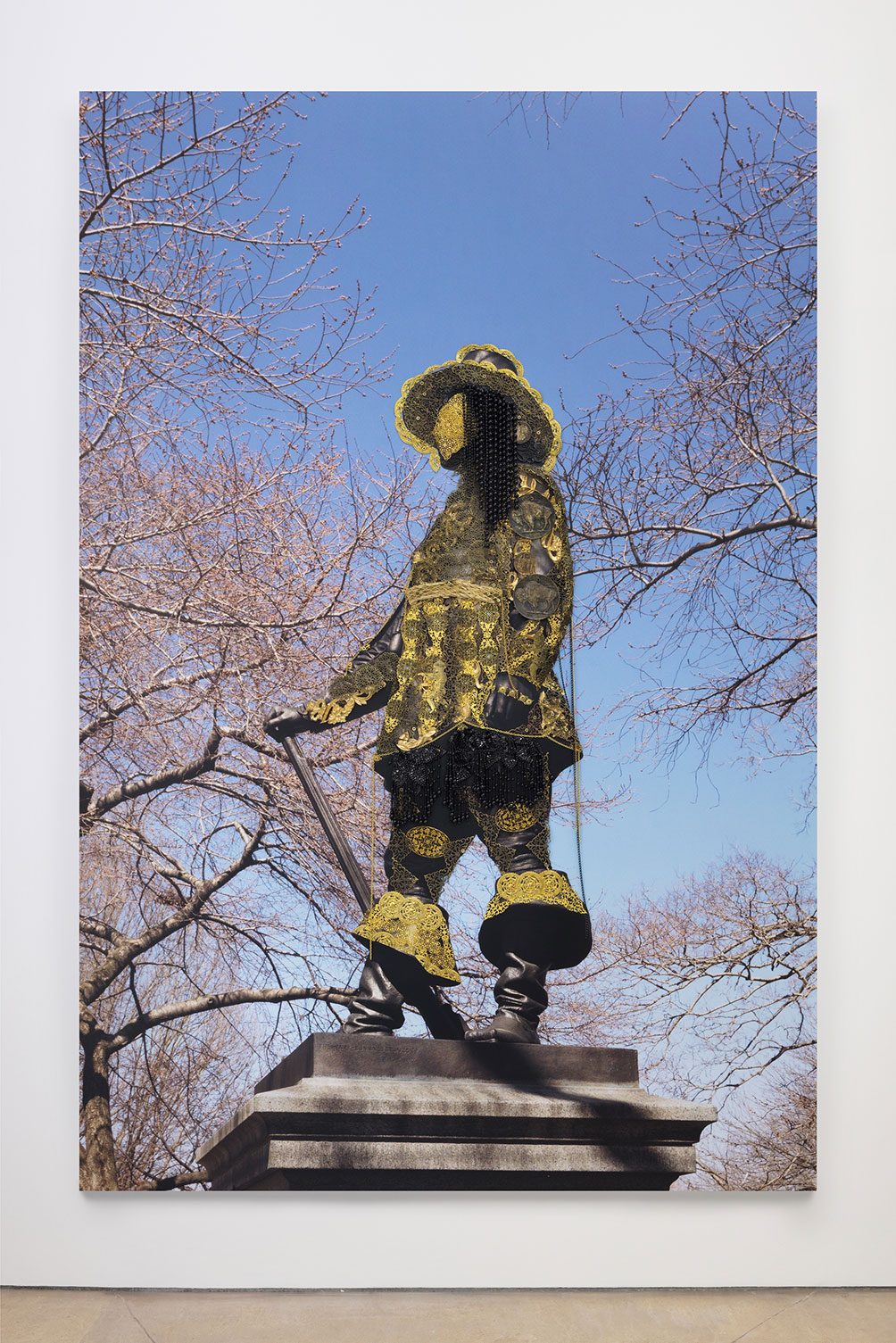 Pilgrim, Central Park, 2018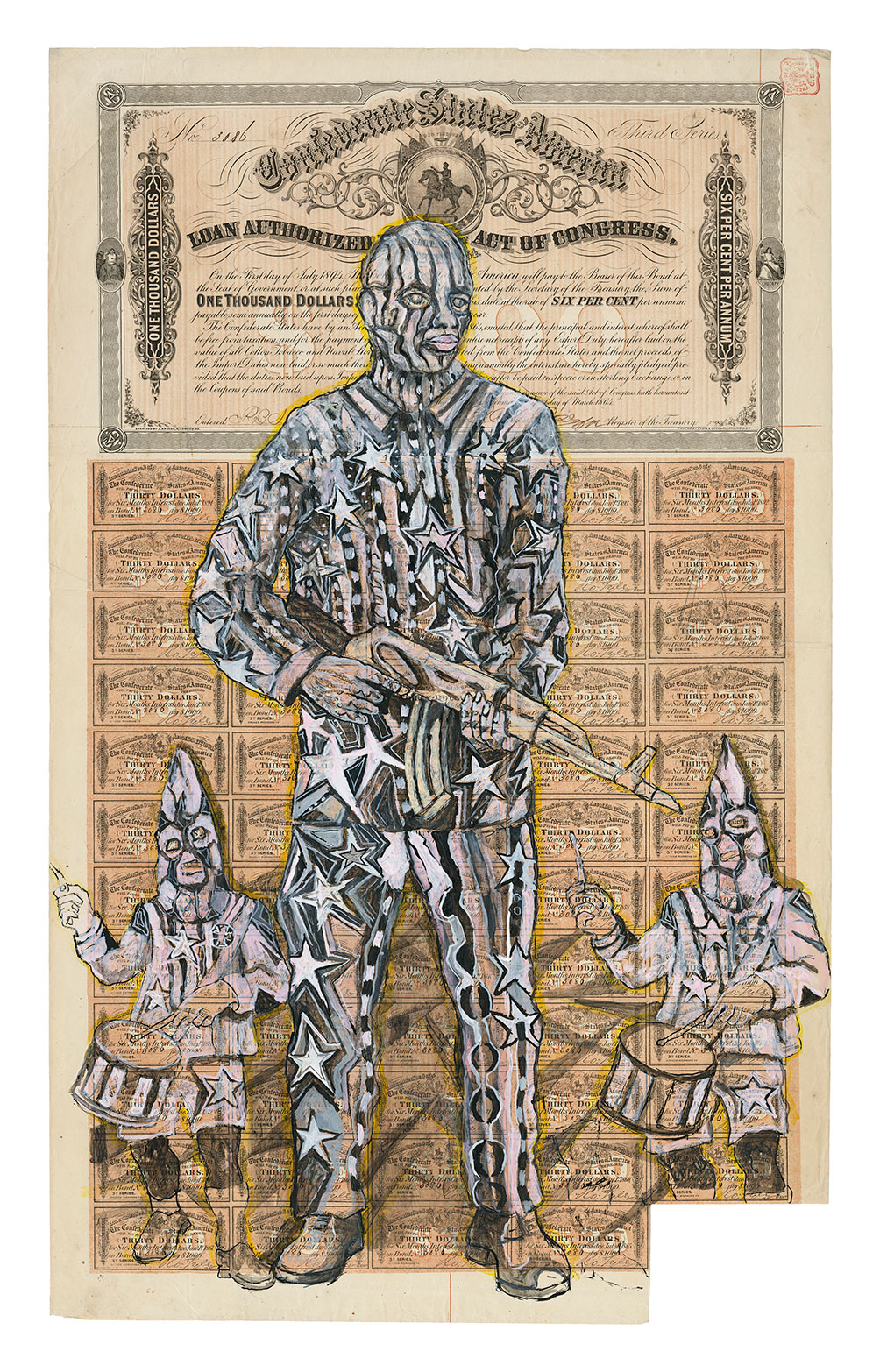 Confederate States of America Loan 6, 2018

Exhibition
Hew Locke's Patriots opens at PPOW Gallery, 11 October - 10 November.

Hew also showed work on the PPOW Gallery stand at Frieze London, a collection of 30 x 40 inch photographs from his How Do You Want Me? series.


All of Hew Locke's images are available for fast track licensing.
How to license an image
To request an image, log in or register for an account.
Need help? Contact our team for expert guidance on finding the right image for your project. Email artimage@dacs.org.uk or call +44 (0) 20 7780 7550. 
Related pages

Images: Hamilton, Central Park, 2018; Stuyvesant, Stuyvesant Square, 2018; Confederate States of America Loan 8, 2018; J. Marion Sims, Central Park, 2018; Confederate States of America Loan 2, 2018; Pilgrim, Central Park, 2018; Confederate States of America Loan 6, 2018. 
All images © Hew Locke. All rights reserved, DACS/Artimage 2018.