What can you tell us about your upcoming exhibition, Colourscapes? 
Colourscapes is my solo exhibition at Waddington Custot Gallery. It is the first time that I will be showing works on paper as well as paintings there. I am also releasing a book alongside the exhibition which catalogues all of the work in the show and has a selection of studio and process images, which people are always interested in.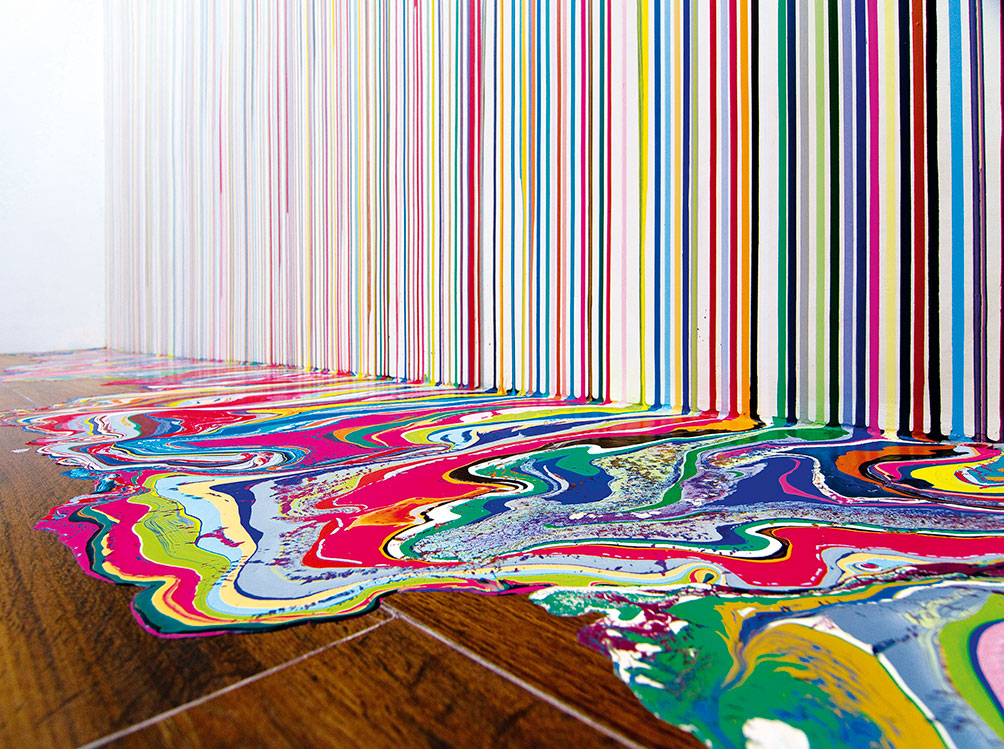 Artists, you say, should always question the rules. What inspired this belief and how does it influence your art? 
I remember having a tutorial at college with someone where we were discussing acrylic and oil paints and they said the one thing you can never do is mix the two paints together. So immediately after that tutorial I went and mixed oil paint and acrylic together! It made a horrible painting but helped me realise how important it was to challenge preconceptions, and it felt very liberating!
Your paintings explore colour, chance and the nature of paint. Is paint ever predictable?
My paintings always surprise me. With experience one gets to know what a material can do, but I also enjoy the unpredictable.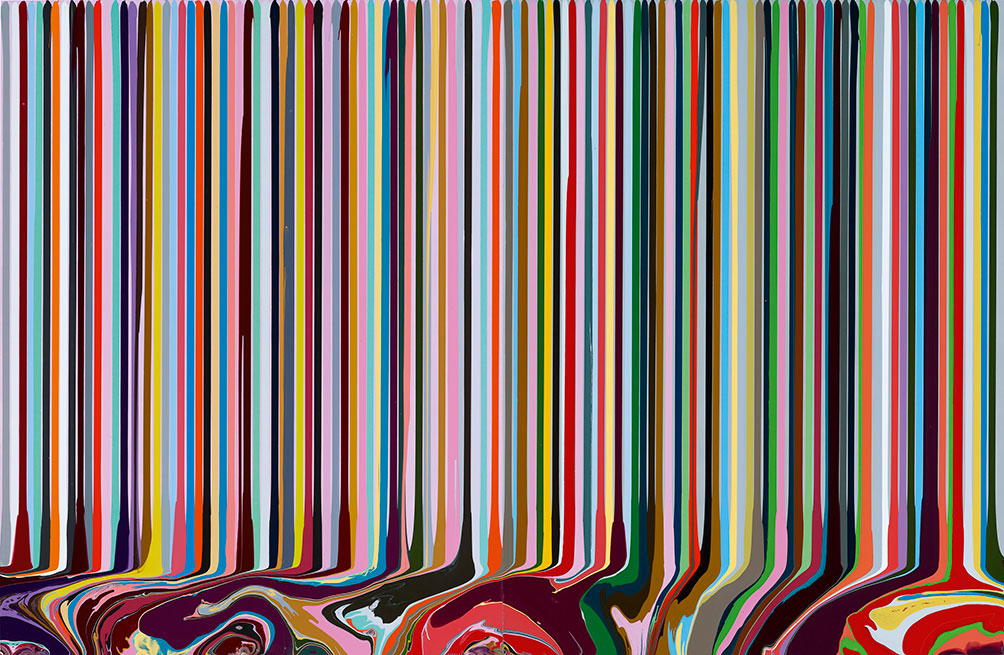 What informs the colour choices of your paintings?
There is a certain amount of research that goes into the paintings. Often the colours are taken from another source, this might be a landscape or an old master painting, for example Monet is a big influence, as is Turner.
This exhibition will feature your Puddle Paintings alongside your Splat artworks. What is the intention behind each style?
The large-scale Puddle paintings follow on and develop from the 14-meter-wide Venice Biennale painting I showed last year, introducing a sculptural element to the picture-plane.

In my Puddle paintings, the paint pools at the bottom of the panel as a physical extension of the paintings. It looks like the painting has slipped and spilled onto the floor! The Splat works, however, resemble explosive fireworks. In these artworks the paint is built up in layers creating energy, depth and splinters of colour.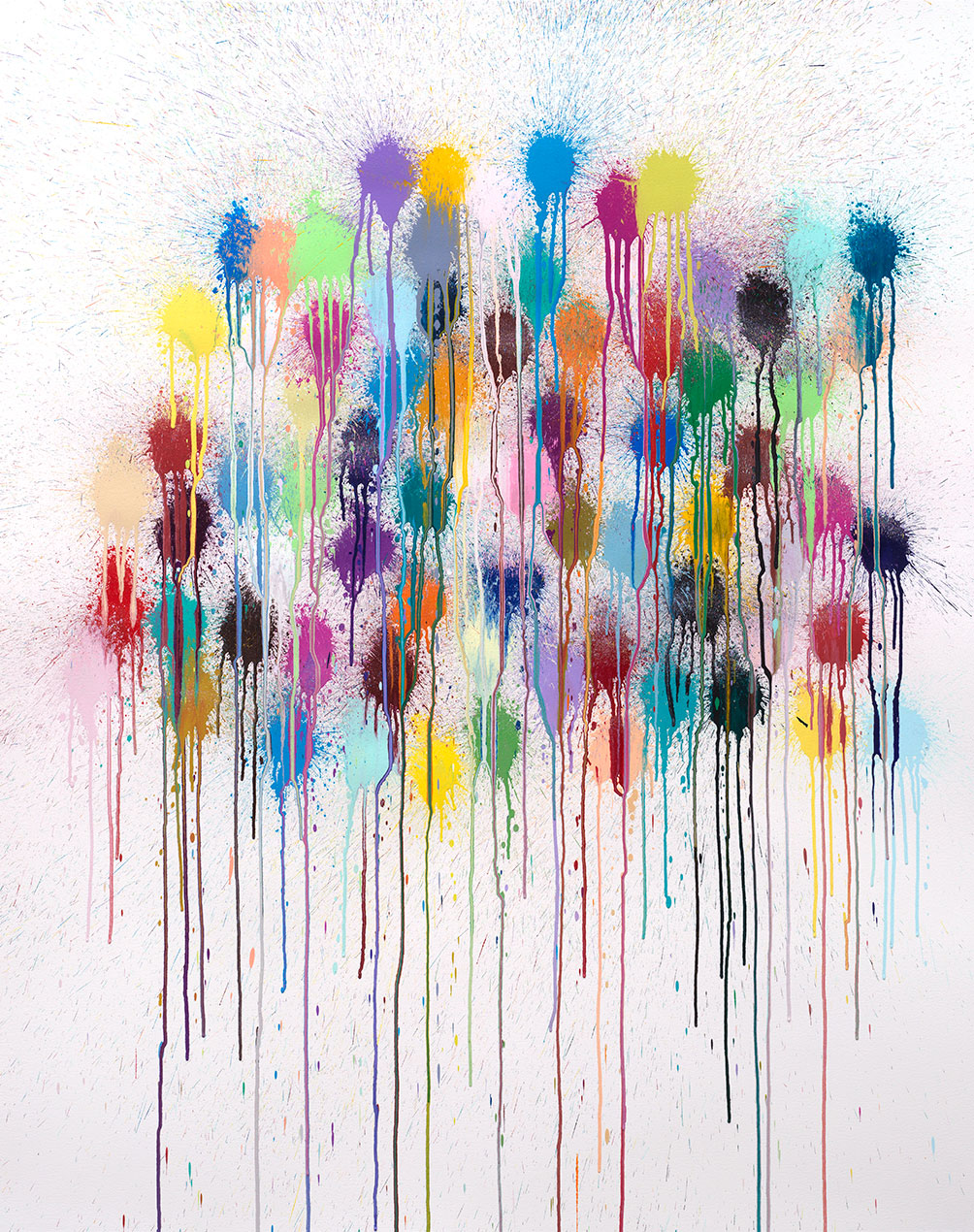 Your drum-kit is an integral part of your practice. Can you tell us more?
The importance of music began when my mum and dad bought me a toy drum-kit when I was 4 or 5 years old. I had seen drummers in the marching bands where we lived in Northern Ireland and I begged them to buy me a LOUD drum. It disappeared after a couple of days and strangely could not be found anywhere!

Many years later, I could finally afford my own drum-kit. The obvious link is rhythm, but it goes deeper than that. For me, a painting is composed just like music; I might choose a sequence of colours that are then repeated or reversed in the way a musical refrain metamorphoses through a song. Music helps me problem-solve paintings; being able to take a sideways step, while still staying deeply involved in the creative process.
What was it like being part of the YBAs?
It was an organic development of groups of artists in London at the time. In July we celebrated the 30th anniversary of 'Freeze,' an exhibition organised by Damien Hirst. Bruce Altshuler, a prominent writer and educational director in the art world, wrote of the show as 'legendary as the originating moment of the Young British Artists (YBAs), seen as having played a founding role similar to that of many artist-organised exhibitions in the history of early Modern art.'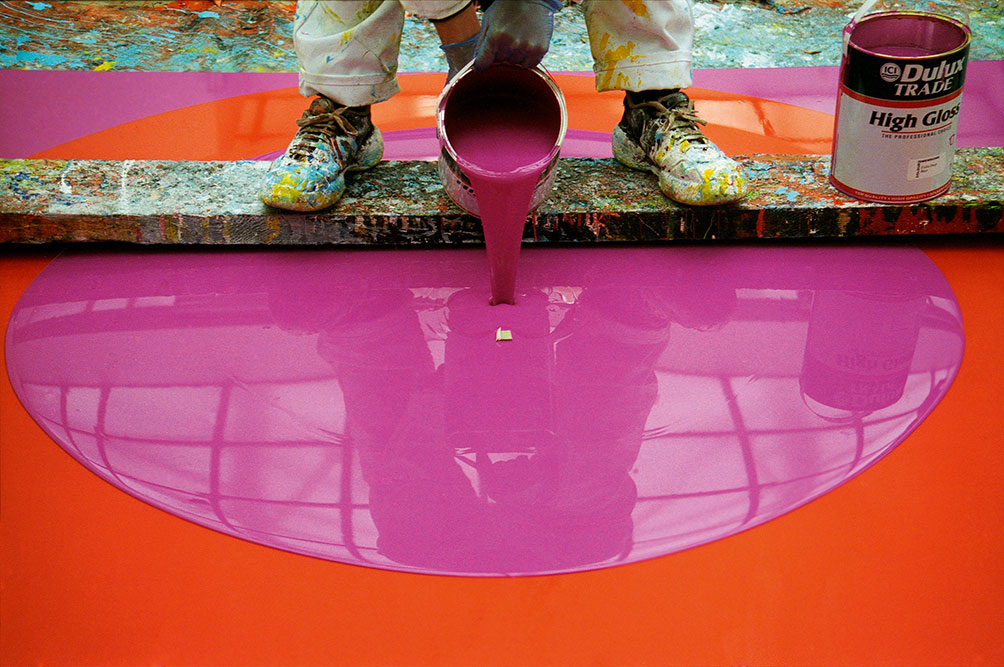 What would you say to anyone hoping to pursue a career in art now?
I would say trust yourself, take risks and be aware that you need to have a lot of perseverance to succeed and sustain a career. 
Lastly, why did you decide to join Artimage? 
Because it is a good resource for my work and a good way to connect to other artists and the general public.
View our full Ian Davenport collection here, or browse a selection of our favourites below: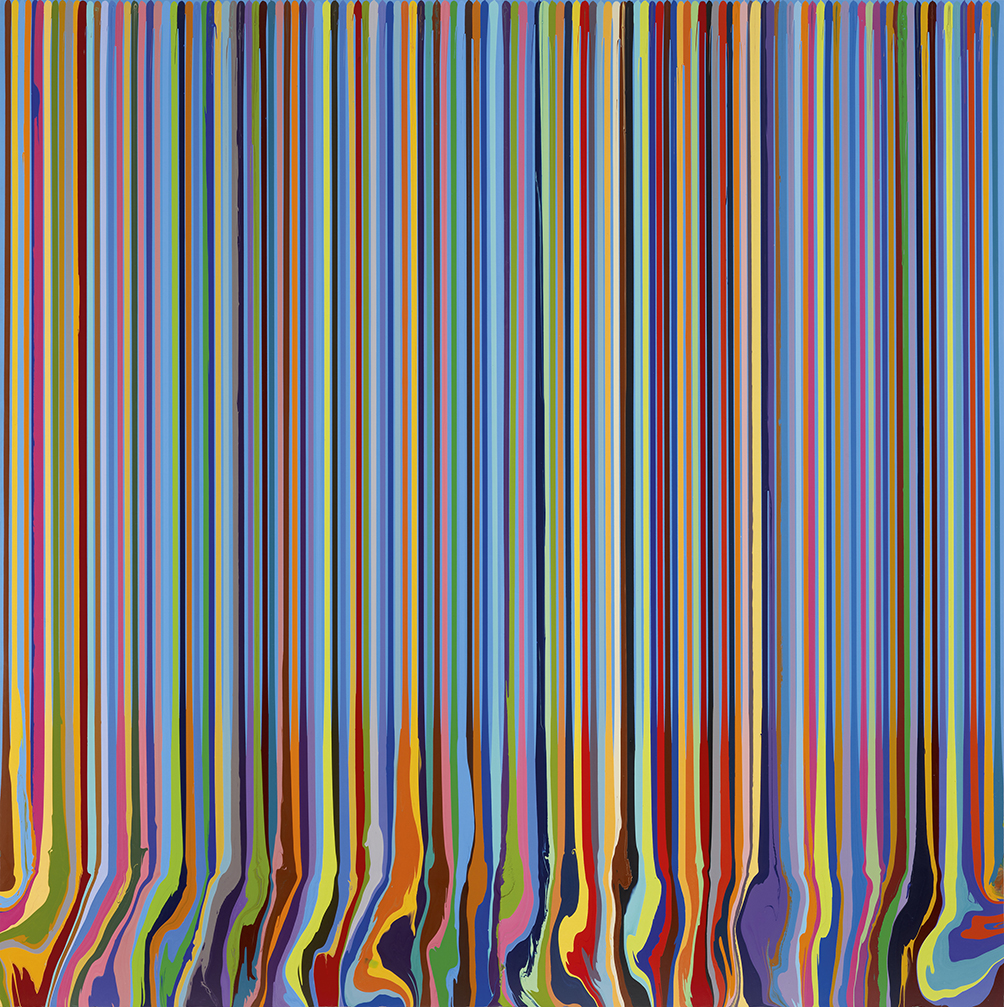 Puddle Painting Light Blue Permanent, 2008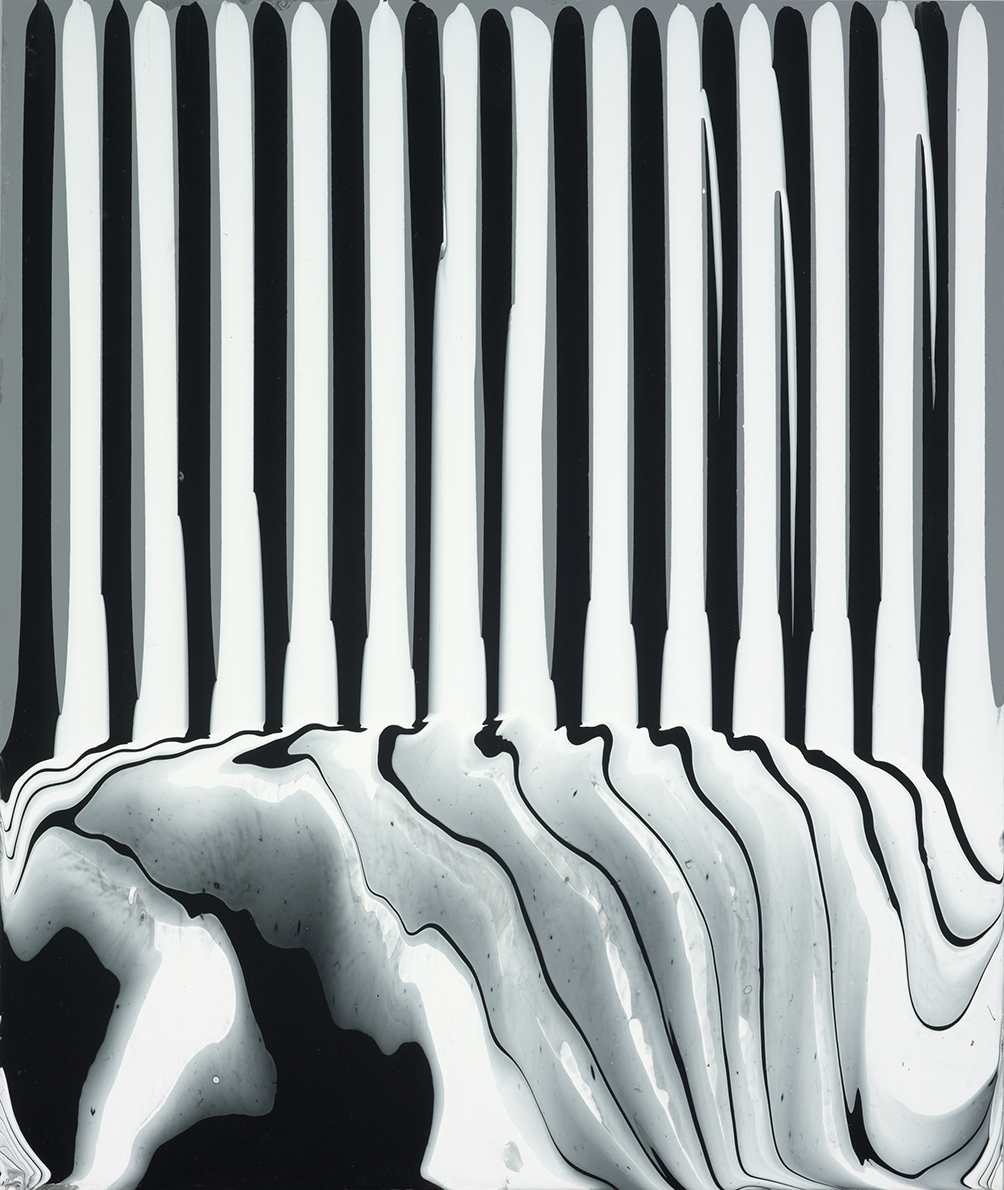 Puddle Painting GreyBlackWhite, 2009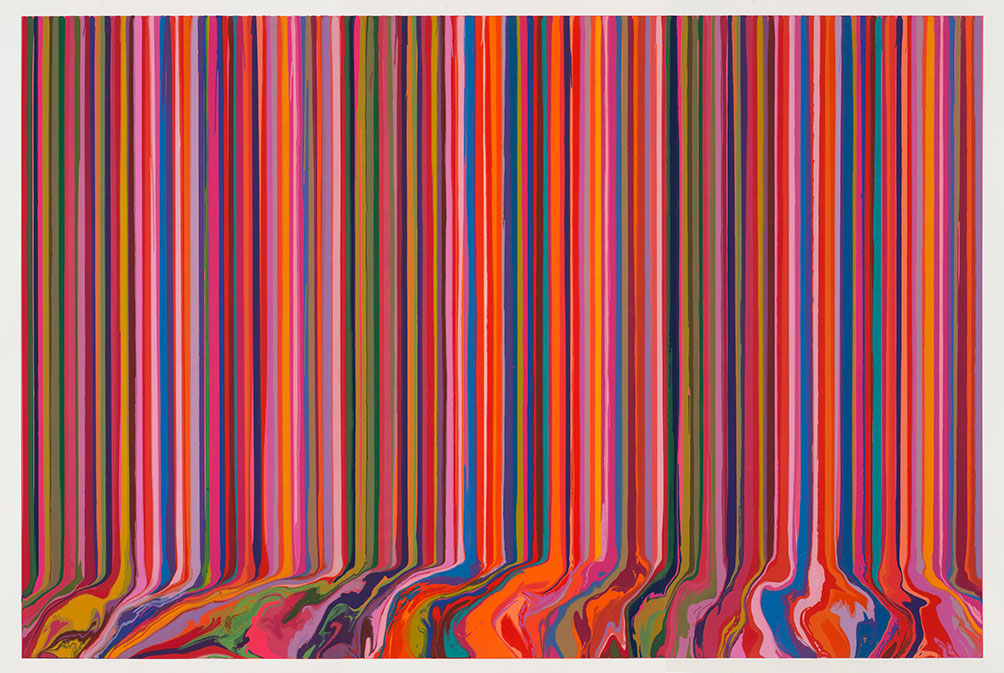 Poured Triptych Etching Primavesi (After Klimt), 2017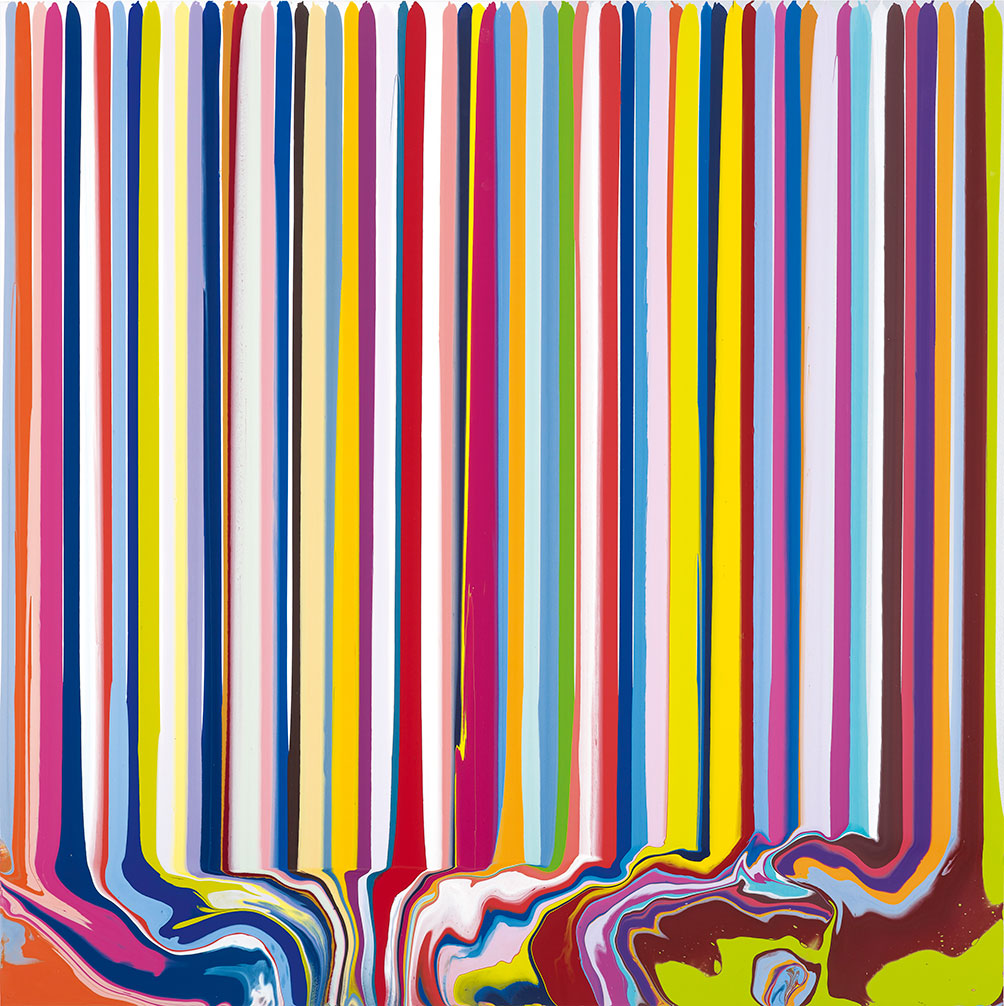 Chromology, 2014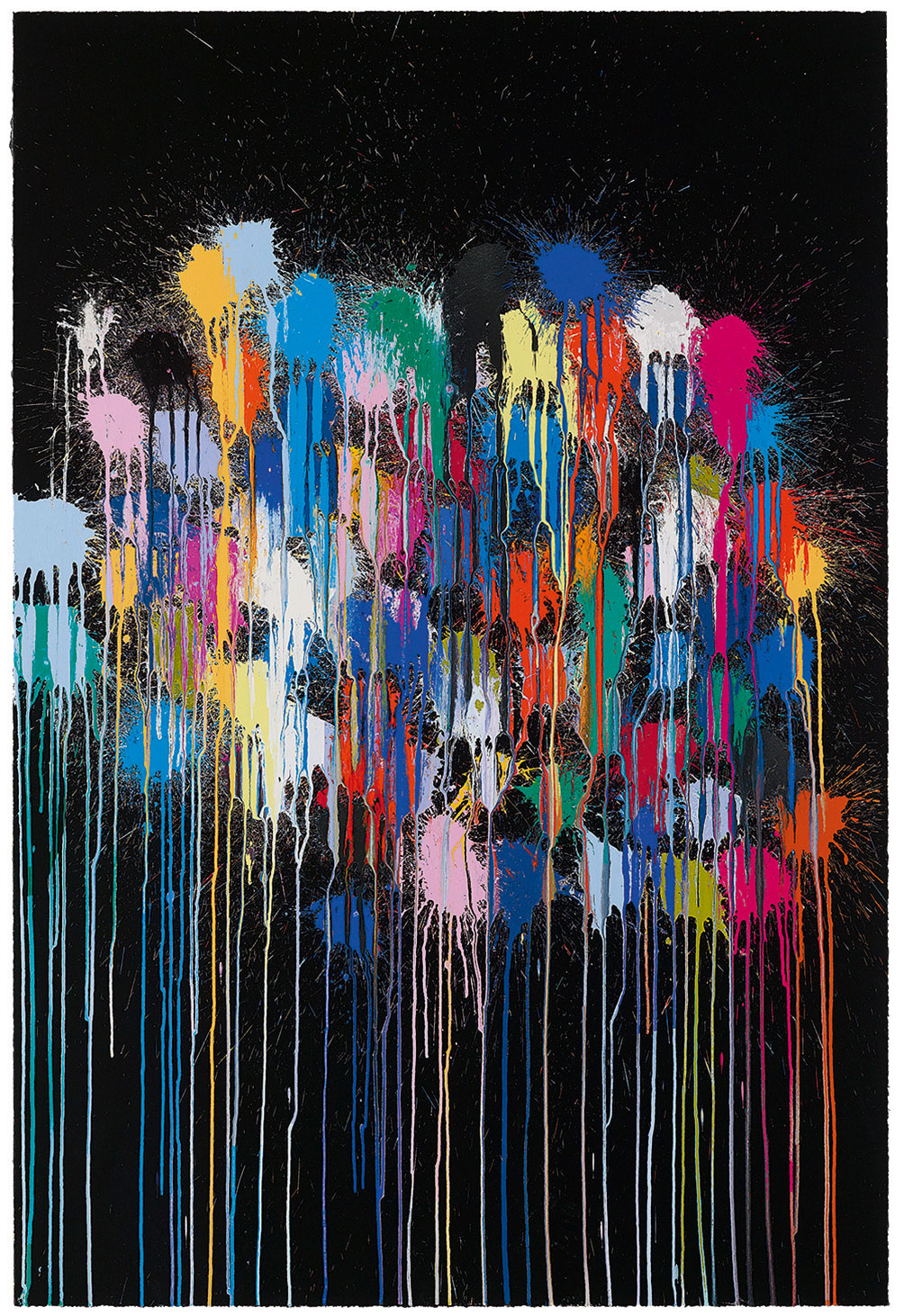 Colour Splat Cloud (black)

Exhibition
Colourscapes will show at Waddington Custot Gallery until 8 November 2018.
View our full Waddington Custot collection.
How to license an image
To request an image, log in or register for an account.
Need help? Contact our team for expert guidance on finding the right image for your project. Email artimage@dacs.org.uk or call +44 (0) 20 7780 7550. 
Related pages
Images: The artist's studio, 2018; Guidi Gallery Wall Painting, 2012; Puddle Painting Pale Lilac Grey, 2010; Ember, 2018; The artist working on Poured Painting Magenta, Orange, Magenta, 1999. Photograph by Sue Arrowsmith; Puddle Painting Light Blue Permanent, 2008; Puddle Painting Grey Black White, 2009; Poured Triptych Etching Primavesi (After Klimt), 2017; Chromology, 2014; Colour Splat Cloud (black), 2017.
All images © Ian Davenport. All Rights Reserved, DACS/Artimage 2018.